Tools you will need:
| | | |
| --- | --- | --- |
| Tool | Is Required | Comments |
| Line Wrench (12mm - think) | Yes | If you don't use proper line wrench you can round the steel fittings on hydraulic lines, and may need to cut them off to install new lines. (lines are not expensive, but they will have to be shipped from Germany and the car will need to go up on a lift – so much for DIY) |
| Metric wrenches (various sizes) | Yes | |
| Metric Sockets | Optional | Would be helpful |
| Metric Torx Set | Yes | |
| Screwdriver set | Yes | would be helpful |
| Torque wrench | | would be helpful |
| Rachet extender | Optional | Will be VERY helpful to get into some tight spaces |
| Needle-nose pliers | Yes | (these will be necessary to tighten hose clamps – BMW sells a great time saving special tool which costs $230.00-I decided to sweat it out instead) |
| Autoenginuity scan tool with BMW Add-on - $420 shipped | Yes | (this tool is required for bleeding the system) an equivalent tool such as GTI or Bmw DIS can be used. |
| Liquid wrench | Optional | Hydraulic lines can very difficult to remove in certain cases. This would be step one if you have stubborn lines. |
| Propane(Butane?) torch | Optional | Hydraulic lines can very difficult to remove in certain cases. This would be step two if you have stubborn lines. |
| Hydraulic car jack | Yes | You have to remove the wheel and disconnect the pump from the bottom |
| Car Stand | Optional | I didn't use one, but it's dangerous if you have a flimsy car jack. |
| Wheel removal tool | Required | Believe it or not M3's don't come with this basic tool to remove wheel log nuts. |
Parts you will need:
| | | | | |
| --- | --- | --- | --- | --- |
| Description | Part Number | Approx Price | Qty | Comments |
| SMG Pump | 21532229715 | $1600 | 1 | Thanks to a RallyGuy who is a member on this forum my smg pump only cost me 500 bucks gently used. |
| Pentosine Reservoir Connecting Line | 21532282255 | $16 | 1 | This hose may not be required if you successfully remove existing hose from the smg pump. Mine did not want to come out, so I had to replace it |
| Intake manifold hose clamp | 11617831745 | 1.60 | 6 | These hose clamps can be reused if you are very careful removing them. I found it easier to save time and simply replace with brand new hose clamps. |
| Pentosine CHF11s 1L | 81229407758 | 20 | 1 | |
Depressurize Hydraulic system.
Remove E-Box Cover by removing 4 bolts that hold it in place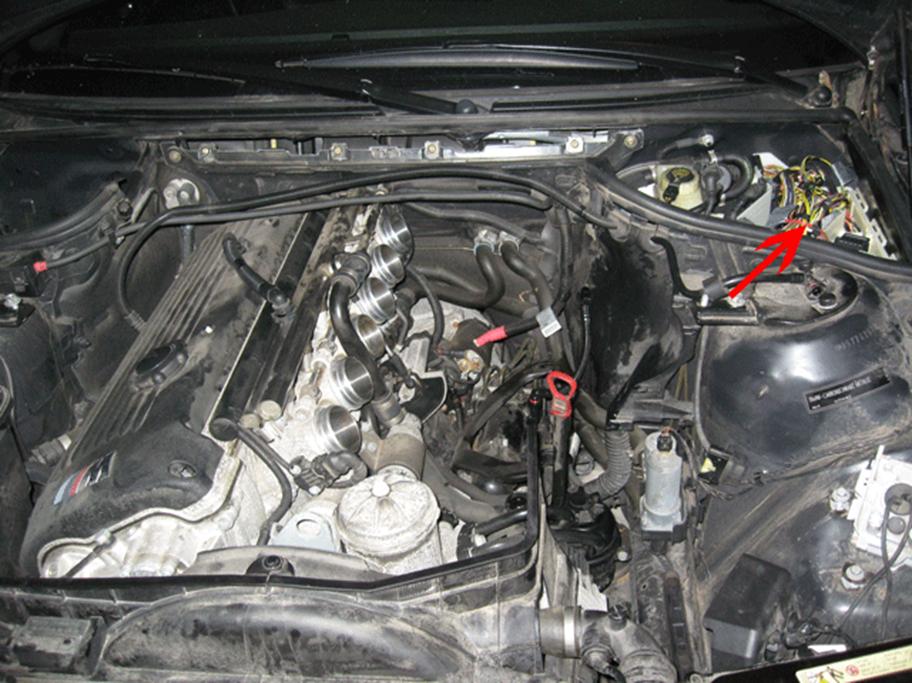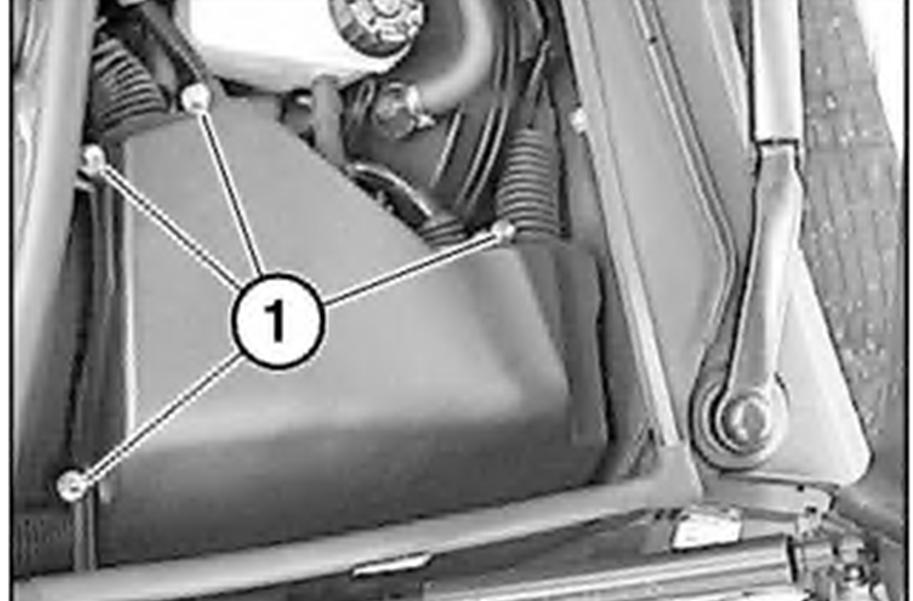 Remove Smg Pump Relay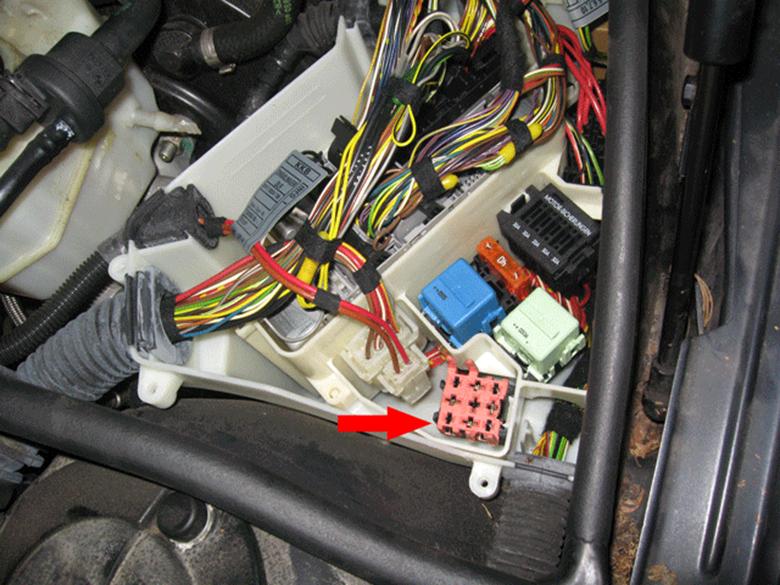 · Get in the car.
· Close the door.
· Turn on ignition (do not start the car)
· Press the brake pedal
· Move selector lever from position 0 to R or 0 to E as often as necessary to depressurize the system. (after a while transmission will stop performing gear shifts)
· Installation note: once you put everything back together, do not reinsert the relay until you perform bleeding of the system.
Disconnect Battery
Battery is located in the trunk underneath a plastic plate which is held down by two plastic fasteners.

Remove Intake Manifold
Remove air intake plenum by removing 4 expanding fasterners. Simply pull on the central shaft using a set of pliers.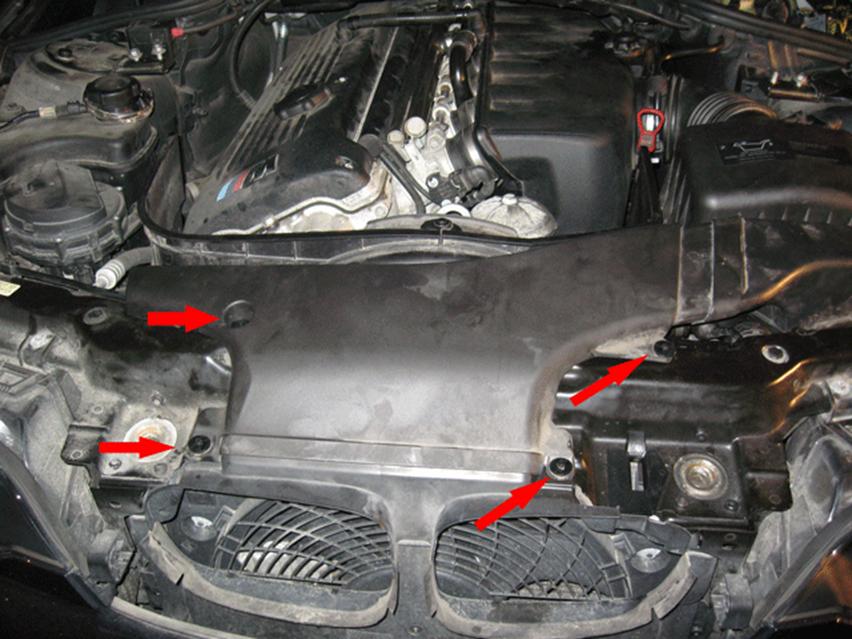 Remove Air Filter and Cover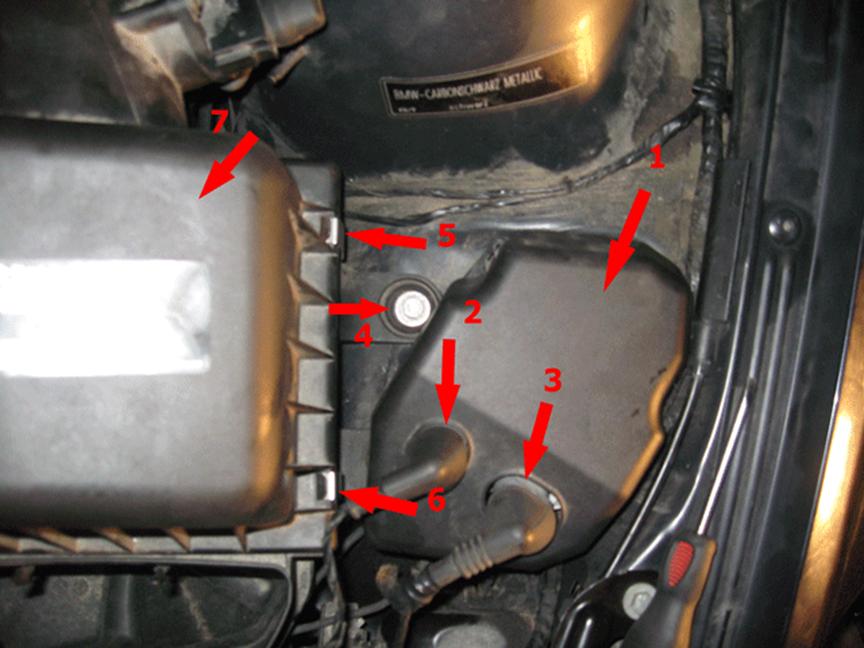 If you have the xenon option on your car, you will need to remove the wires that connect to the ballast and loosen the ballast housing.
· Lift up ballast housing cover and move it out of the way (1)
· Disconnect quick connect couplers (2 & 3)
· Loosen up mounting bolt (4) (this is where ratchet extension comes in really handy)
· Pry away brackets (5 & 6) using a flathead screwdriver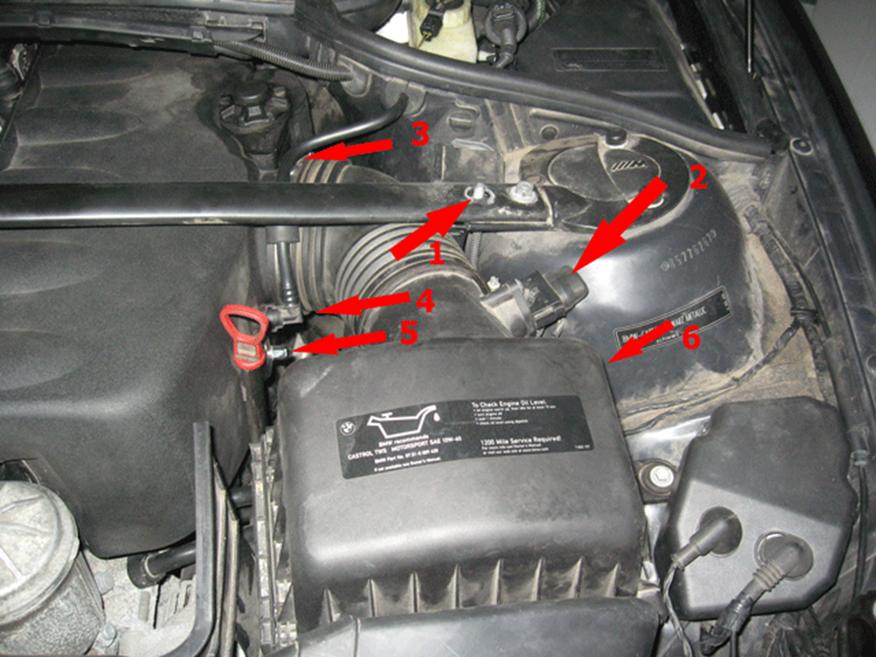 · Remove Sway Bar (there are 4 bolts total) (1)
· Remove Mass Airflow Sensor (MAF) by pressing on it's quick release couplings (2)
· Disconnect metal hose band (3)
· Disconnect vacuum hose line by pressing on the sides of the quick release coupling (4)
· Unscrew the oil dipstick mounting nut that secure the line to the intake manifold (5)
· Remove air filter cover by gently separating the hose from the intake manifold and pulling away and up from the engine bay. (6)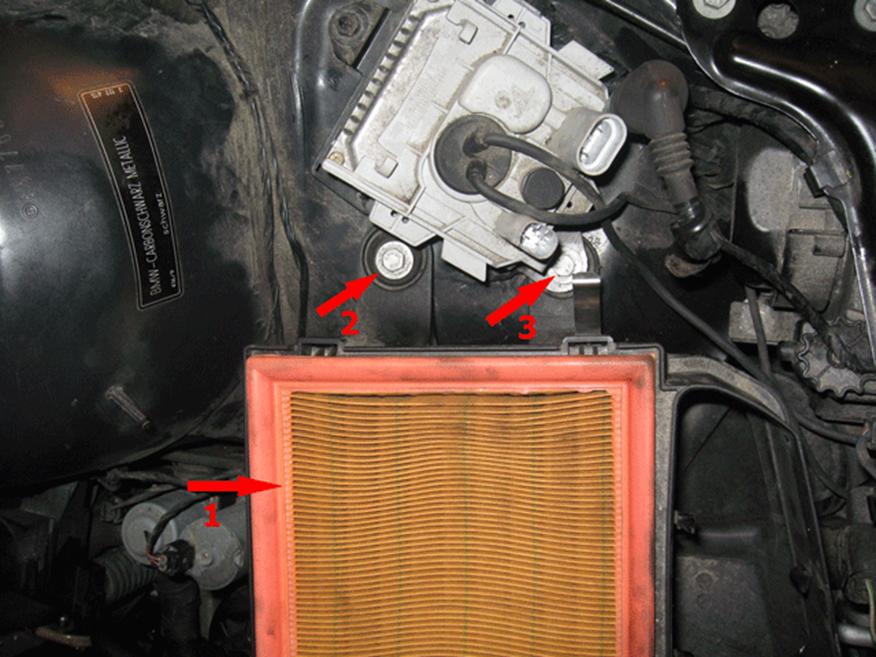 · Remove air filter (1)
· Remove mounting bolts (2 & 3)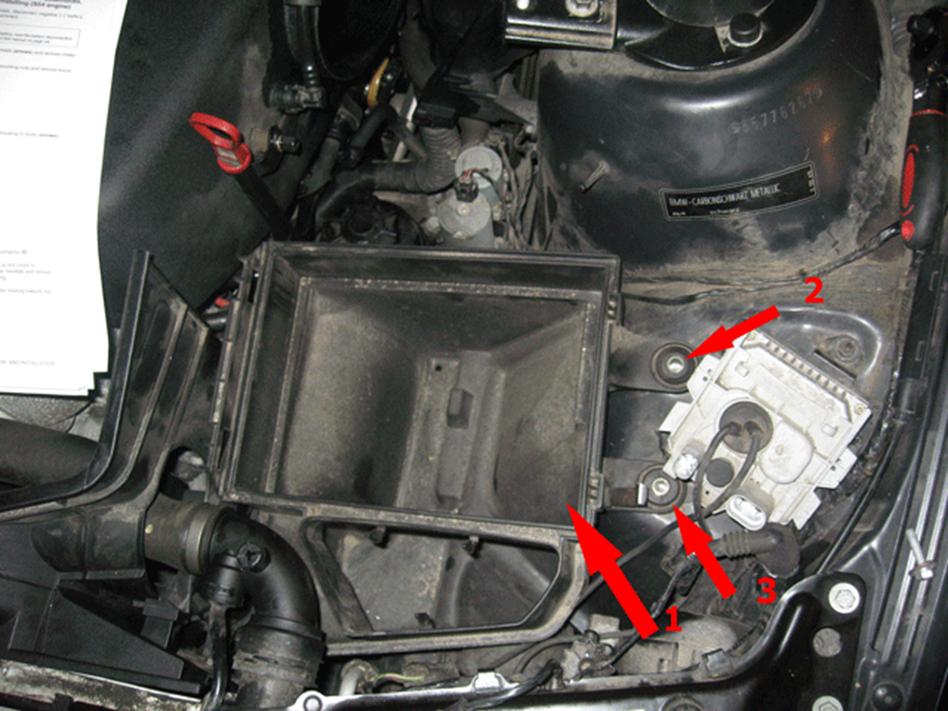 · Remove air-filter housing by gently tilting it and pulling it up
· Installation note: Please note the position of housing's plastic mounting tabs before removing (2 & 3). They have to fit underneath the ballast plastic tabs.
Remove Microfilter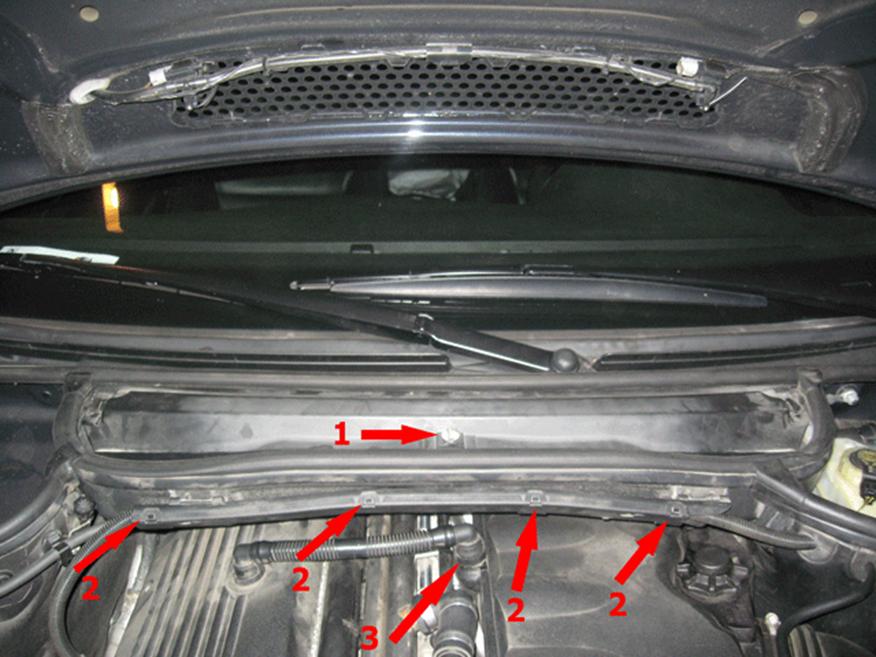 · Unclip micro filter cover by rotating a spring fastener (1)
· Unclip wiring channel cover by opening four tabs at marked locations (2) and remove the two wires running inside the channel.
· Unclip evaporation line (3) by pressing on the quick connect coupling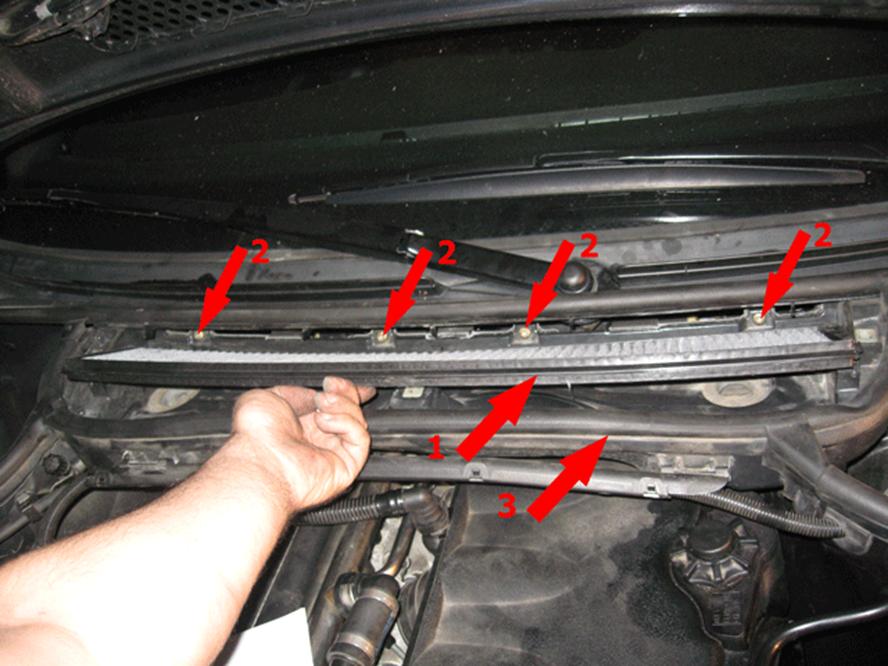 · Remove micro filter (1)
· Unscrew the four bolts (2) using torx wrench.
· Remove Micro filter housing. (3)
Remove air-box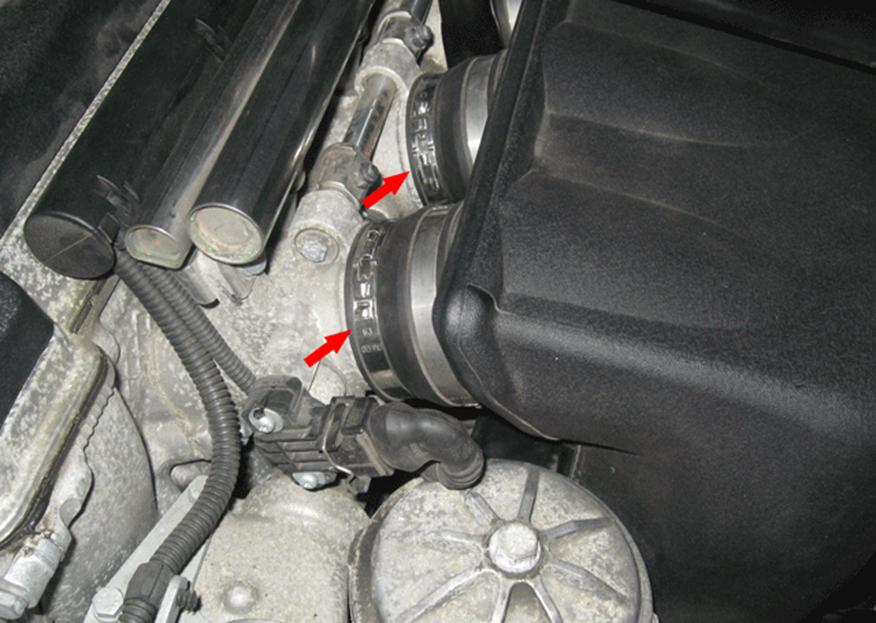 Remove six quick release hose clamps connecting air-box cover to throttle bodies. (In order to make your job easier a special bmw tool should be used to perform this procedure. Unfortunately, because of the cost, I used needle nose pliers, which made the job more difficult)
UNDER NO CIRCUMSTANCE SHOULD YOU REPLACE OEM HOSE CLAMPS WITH ADJUSTABLE HOSE CLAMPS. DOING SO MAY CAUSE YOUR THROTTLE TO STICK! ONLY USE OEM HOSE CLAMPS.
The following side note is optional if you do not have the special hose clamp tool.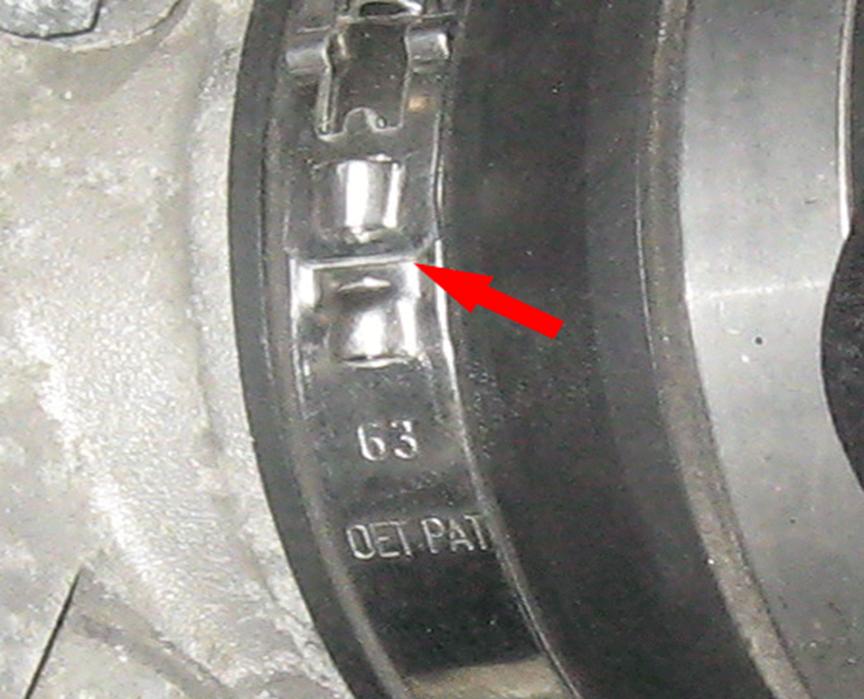 · Pry off the hose clamp by inserting a flat-head screwdriver underneath the flap.
· Discard used hose clamps.
Installation Note: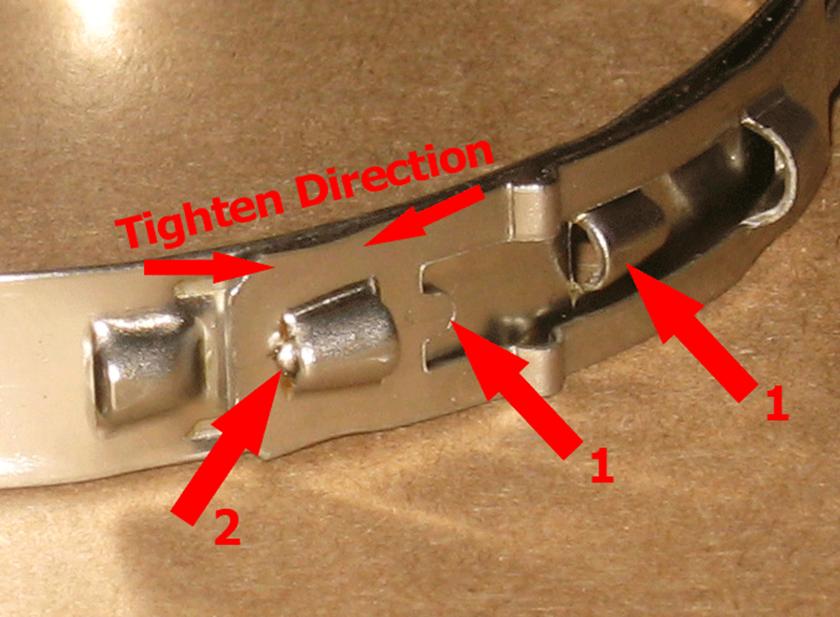 The quick install hose clamp has two lock positions. The first lock position is engaged when tab (1) is inserted into opening(1) indicated by arrows (1). In this state the ring is locked but is not tightened. The second lock position is labeled by arrow #2, when a small sharp tab is inserted into a smaller opening.
· Put hose clamp into lock position #1
· Fit locked hose clamp over air-box hose (six of them)
· Fit six air-box hoses over throttle bodies.
· Re-attach all vacuum and evap. Hoses back to the air-box.
· Lock hose clamps into lock position 2 by applying force on both ends of the ring indicated by "Tighten Direction" arrows.
Note: if you do not fit hose clamps prior to installation of intake manifold, your job will be increasing more difficult as you move your way down the engine bay towards the passenger cabin. ( I learned the hard way )
Remove Air-Box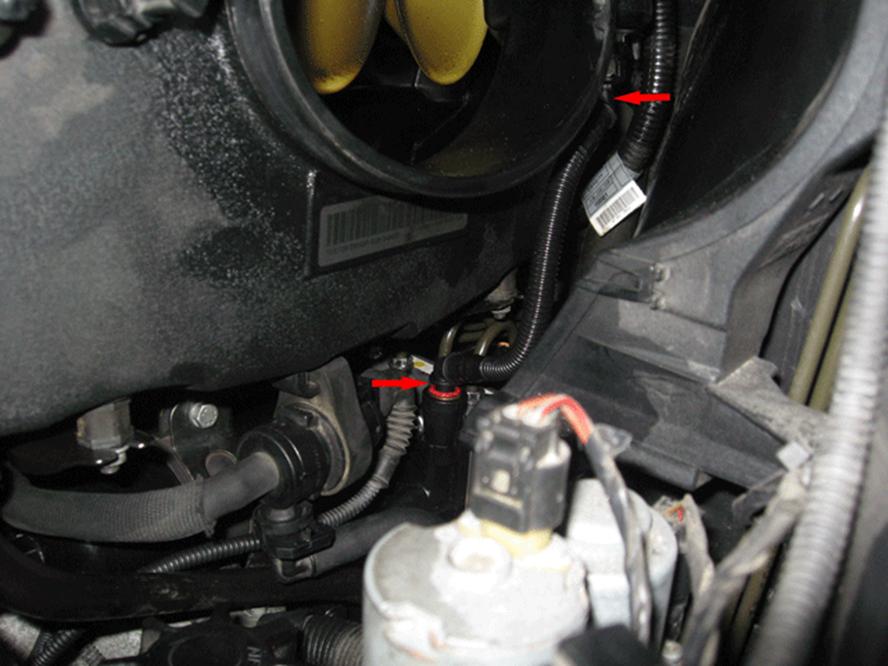 · Remove reservoir supply hose by disconnecting it from reservoir tank. (The tank has a valve that prevents liquid from spilling out. Mine did not work, and all pentosine spilled)
· Press the red quick ring and pull out the hose from the SMG pump. (mine was stuck and had to be cut)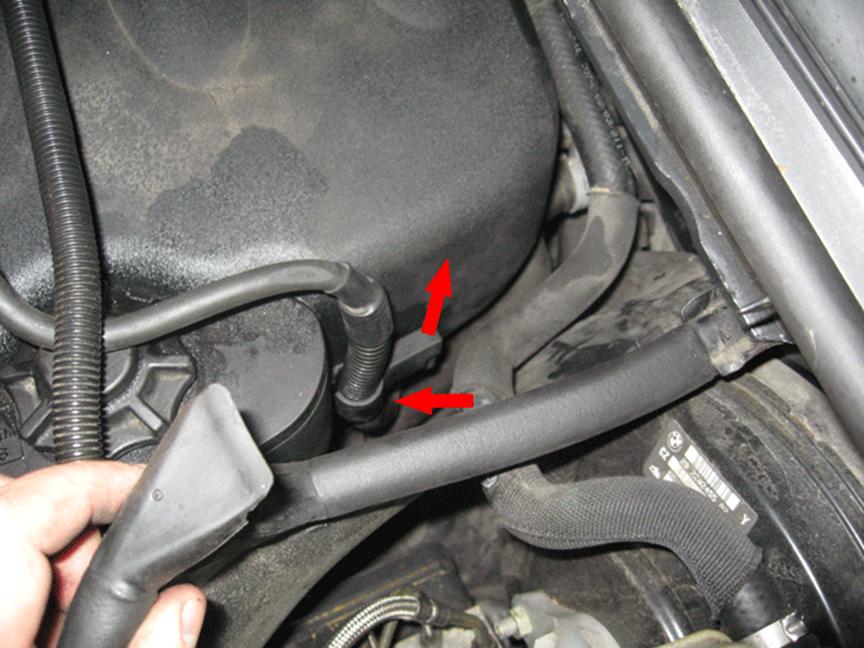 · Detach wire by sliding up support clamp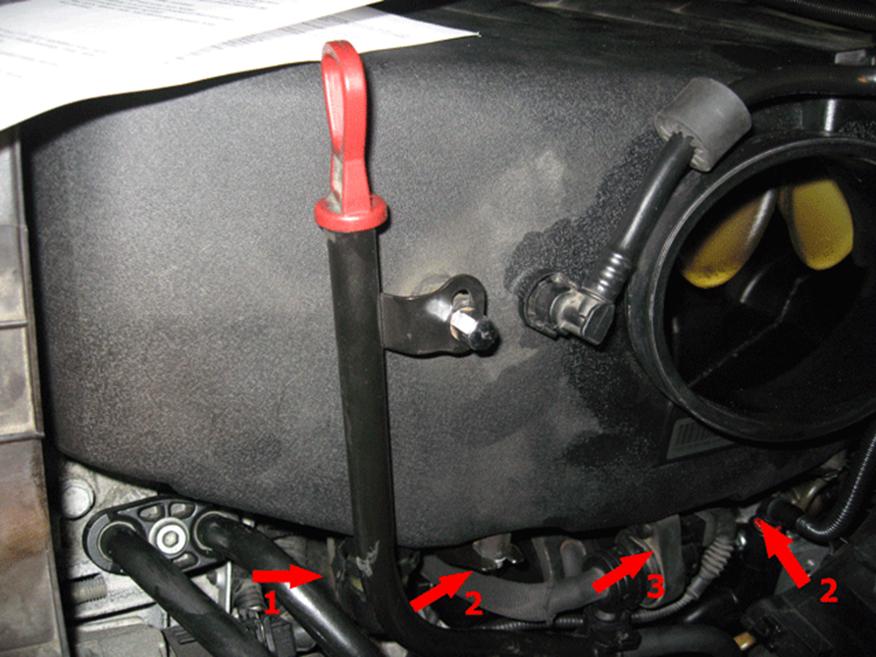 Working underneath the air-box cover disconnect:
· Quick connect Hose (1)
· Two air-box support bracket nuts (2)
· Slide off tank venting valve off of support hook
· One more hose at the back passenger side of intake manifold. I was unable to remove this but, it gently came off when I pulled out the air-box. (it's not visible in this photo – see bottom view) (Installation was tricky and required a lot of cursing and sweating)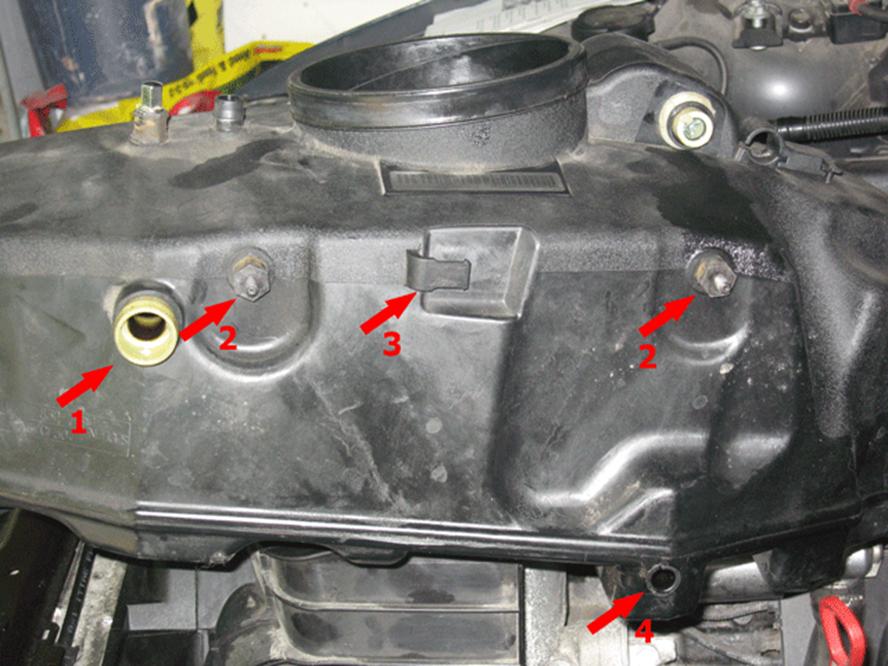 Bottom view shows various connectors and hoses. Please note that #4 is easy to remove but difficult to install.
Please note: the back of the air-box (between air-box and micro filter) has two hooks for routing a vacuum line and a wiring harness. Those two must be put in place after air-box is re-installed.
PULL OUT THE air-box FROM THE ENGINE BAY! J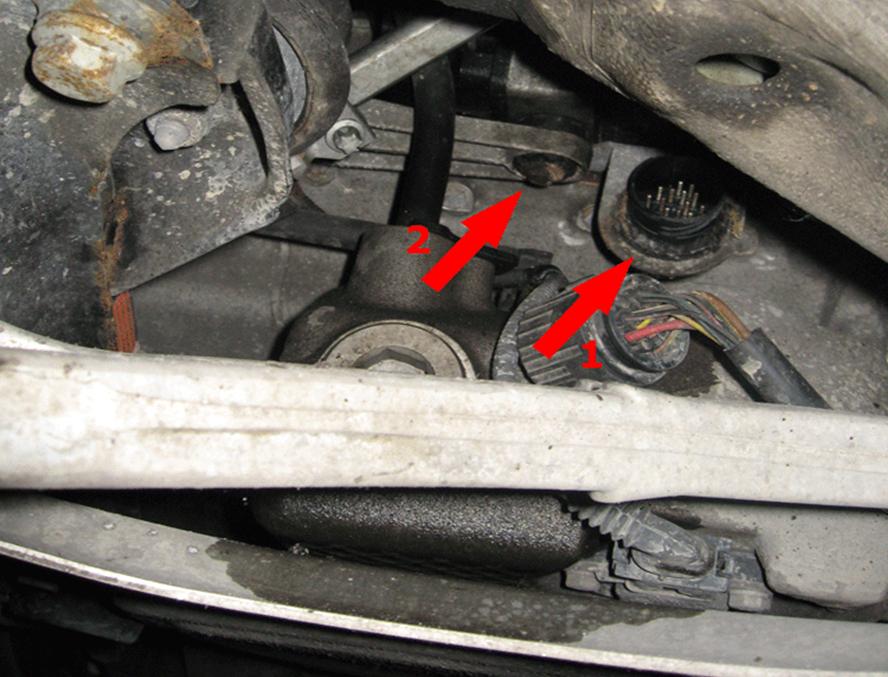 · Lift up the front left side of your car (use of car stands is highly recommended – because you WILL have to stick your head into the wheel well)
· Remove Wheel
· Remove Electrical connector (1) and mounting bold (2)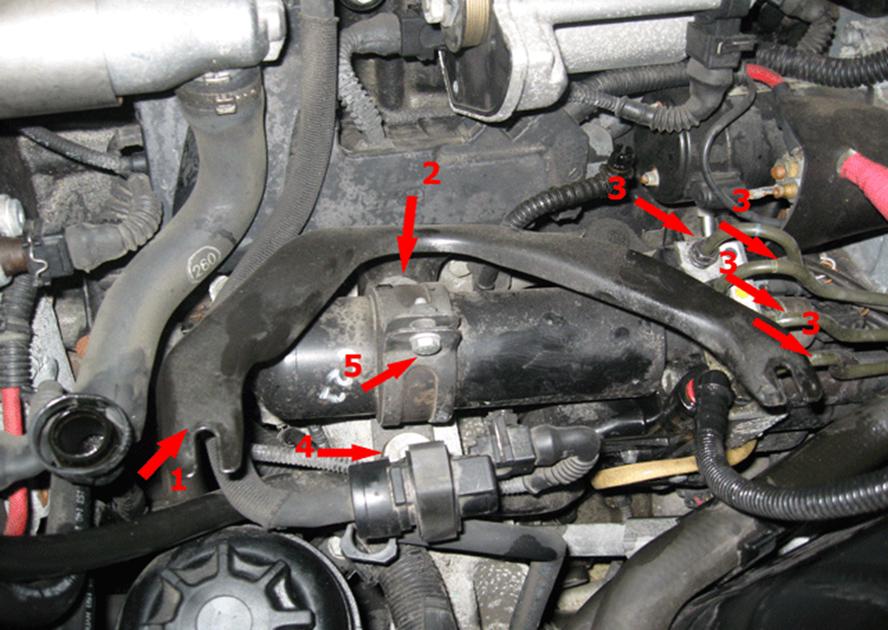 · Remove support bracket (1) by removing bolt (2)
· Label hydraulic lines (3) prior to removal
· Using a 12mm line wrench remove hydraulic lines (3). (Torque setting is 14NM) – Note: my lines were IMPOSSIBLE to remove without a torch. (see my write up on hydraulic line removal)
· Detach SMG pump support bracket by removing bolts (4) & (5)
· Detach plug of carbon canister located behind hydraulic lines
· Lift out the pump and replace with a new one. (note: my aftermarket pump came without a carbon canister located on the back. I had to recycle the existing part.)
My Hydraulic lines were very stubborn and no matter what I tried I could not remove them. In order to prevent having to cut those lines and towing the car to a dealer to have new lines installed, the last option was to heat up the hydraulic connector housing to loosen up steel line fittings.
In order to do this, the pump needs to be disassembled inside the engine bay.
The tool: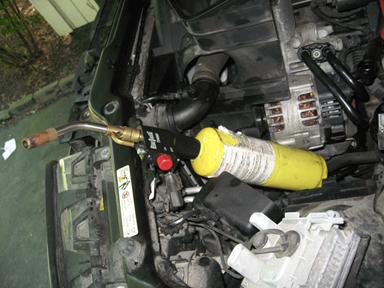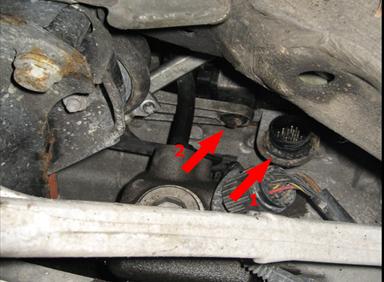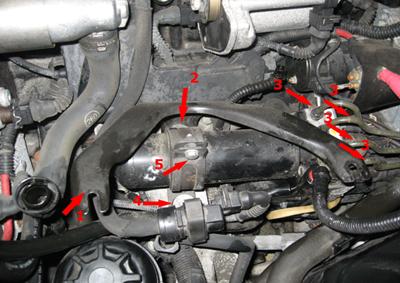 Secure smg pump from underneath a car with bolt (2) as well as from the top bolt (4). Loosen up bolt 5 so that smg pump can move freely inside the brace.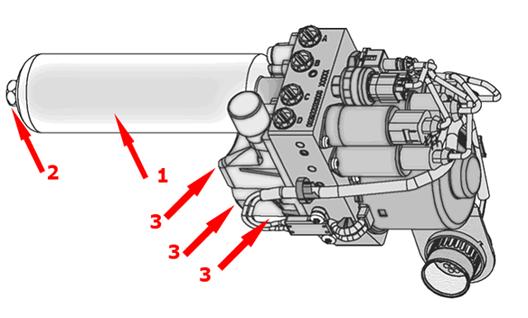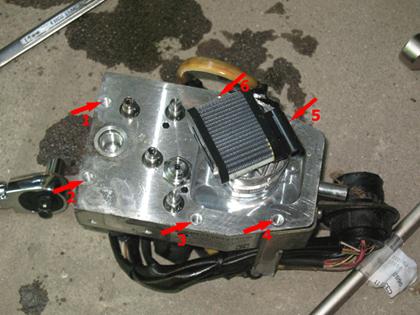 · Remove pressure accumulator (1) by turning bolt (2)
· Detach pentosine reservoir by removing 6 Torx screws holding it in place (3)
· Photo on right shows locations of 6 screws
· Note: when you disassemble the pump, fluids will pour out unless you figure out a way to siphon off the liquid inside the pump.
· Heat up the remaining aluminum SMG pump housing one bolt hydraulic line at a time and try to remove the steel fitting.
· Note: do not expose hydraulic lines or hydraulic line fittings to direct flame, instead concentrate on the aluminum housing.


ASSEMBLY:
· Assembly is the reverse of taking everything apart, and you should have no problems.
· DO NOT RECONNECT THE BATTERY, TURN ON THE CAR OR REINSERT THE SMG PUMP RELAY UNTIL YOU HAVE FILLED THE SYSTEM WITH HYDRAULIC FLUID. (running the pump dry may damage it)
· Fill up the reservoir with Pentosine CHF 11s and wait until all bubbles stop
· Then add a little bit more. (Do not overfill the tank.)
· Re-Connect the battery
· Perform bleeding operation.
o Install Autoenginuity Scan tool software
o Activate BMW option (see installation instructions)
o Turn ignition key to ON position
o Start application
o Connect to SMGII system
o Perform the following operations:
§ Engage Gear 1 (wait 90 seconds for light to stop blinking)
§ Engage Gear 2 (wait 90 seconds for light to stop blinking)
§ Engage Gear 3 (wait 90 seconds for light to stop blinking)
§ Engage Gear 4 (wait 90 seconds for light to stop blinking)
§ Engage Gear 5 (wait 90 seconds for light to stop blinking)
§ Engage Gear 6 (wait 90 seconds for light to stop blinking)
§ Engage Gear N (wait 90 seconds for light to stop blinking)
§ Engage Gear R (wait 90 seconds for light to stop blinking)
§ Hydraulic Pump
o Insert SMG Pump Relay
§ Repeat Gear Operations
§ Hydraulic Pump
Since Autoenginuity documentation is not very clear on what operations constitute the bleeding of the system, I ultimately tried EVERY single actuation command except for Reset clutch curve.
· Finish up assembly
· Clean up
· Take the car for a test-drive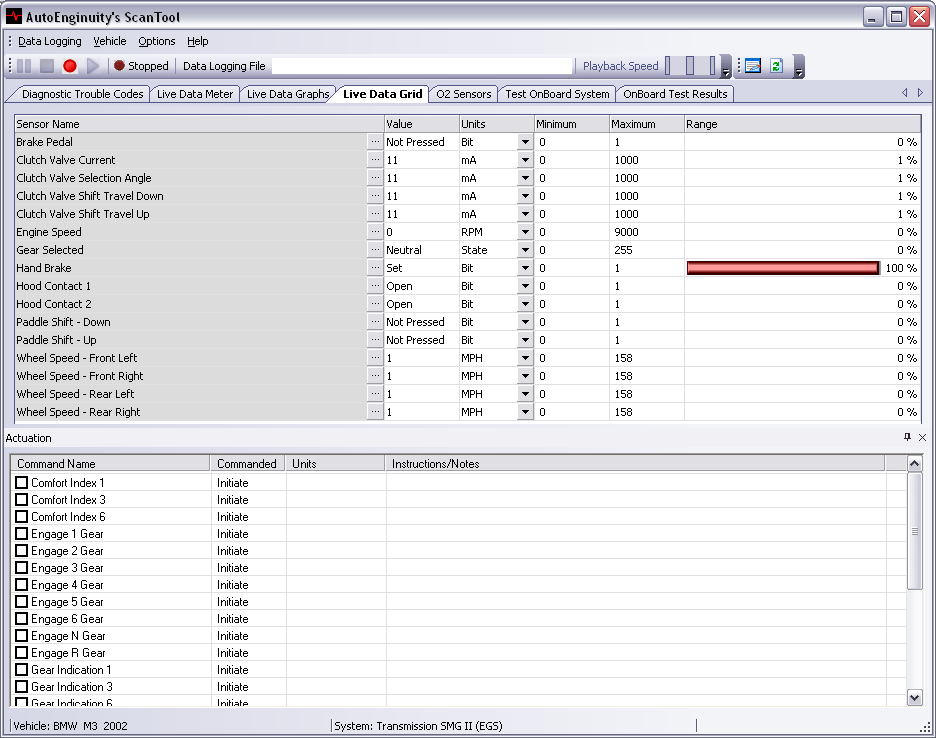 · Do not forget to tighten the wheel. I did and almost had a heart attack.
· Make sure the hood is firmly closed or the car will limp above 20mph.